In early November we took a drive up to Sinking Spring, Pennsylvania so I could visit Fabric Mart Fabrics. I buy a lot of fabric from Fabric Mart and it was fun to see the facility and the huge selection of fabrics. I also had no idea they carried so many notions and patterns! I came home with five pieces of fabric, a big bag of buttons, several spools of thread and stay tape. And I also met Julie of Julie's Picks!
Fabric
This project started with a piece of fabric that I purchased that day in November. Although I had a list of specific patterns and projects in my pocket when I was in the store, it would have made no sense to just buy for those projects. After all, we drove for an hour to get there! While digging around I found a really lovely grey Ponte de Roma (grey is my black) so I pulled out the bolt, unrolled the fabric and was excited to see that the right side was black, grey and maroon plaid. So I bought a couple of yards. It's Rayon/Nylon/Lycra blend with 60% stretch selvedge-to-selvedge and 40% stretch on the selvedge. It feels lovely – very smooth and stable. (Kicking myself now for not buying enough for another top or a jumper.)
Pattern
While I'm still working from home I am focusing on making tops that are suitable for daily video calls and that was my first consideration when selecting a pattern. Must look interesting from the waist up! Looking at this fabric, it clearly needed a design with some structure which led me only a pattern hunt. I wound up with the Coco top by Tilly & the Buttons. (I am only slightly obsessed with funnel necklines these days.) I purchased the pdf pattern and had it printed by PDF Plotting. This is the second time I have used this service. Printing prices are very reasonable but shipping adds to the cost so I have learned to print a few patterns at once to be a bit economical. (This time my other print jobs were two patterns that I had previously printed and done a lousy job of taping together, so nothing new to show!)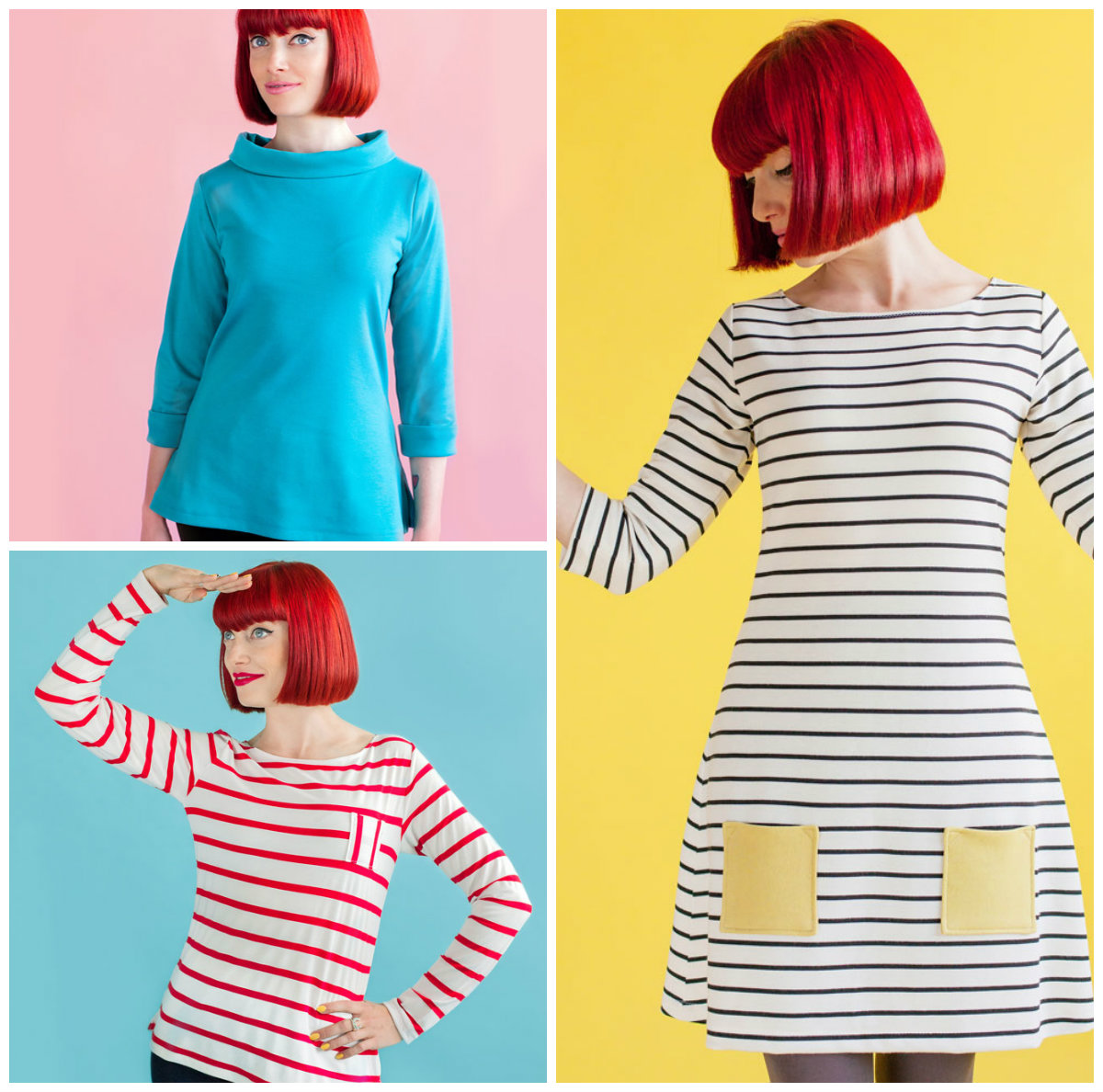 The Coco pattern includes the funnel necked top that I made, plus a dress and Breton top. Tilly's size numbering is a bit different but this particular pattern fits US sizes 2-20.
I measured the pattern pieces, did a quick paper fitting and cut a straight Tilly size 8 which fit my bust. The shoulders are not too big.
While laying out the pattern I really debated with myself because I love the plaid (right side colour) but also wanted to take advantage of the pretty grey on the wrong side. In the end, I used the plaid side for everything but the collar. The pattern also includes an option for cuffs and pockets and at some point in the future I may add cuffs just for some interest!
Adjustments
I didn't do an FBA because the pattern design has just a smidge of negative ease at the bust. I only wound up making one change to the pattern and that was after the top was made.
After I had finished the final bit of stitching (the cover stitch on the hem) I put on the top and noticed that the slits in the sides stuck out (photo to the left). It looked silly and no amount of ironing would make that right. The edges of the slits had been serged then folded over and stitched which meant all of that had to be unpicked. Ugh. At this point I realized that the hip area had more ease than I needed so I unpicked the top stitch on the slit edges and serger down the side seams. An easy solution that just happened to work out. (Sometimes sewing is all about luck 🙂 )
This pattern seems to be designed to accommodate those with beautiful curves. The measurements for the size I sewed are: 44″ bust, 38″ waist and 47″ hips.  I'm more of a rectangle and I didn't actually need the extra space provided by the slits.
Pictured below is my Ponte version. It is very comfortable and with the collar interest it works for Zoom meetings!
I liked it so much I made another!
The weather has been consistently cold (what do I expect? We live in up north now!) So while the grey thread was still in the serger and cover stitch I pulled out another piece of fabric (from Fabric Mart) and made it up again! This fabric is a very soft sweater knit that is just perfect for bitter days. It's much floppier than the ponte. It also drapes a bit differently. I made two small changes with this version:
~ Added 2″ in length
~ Eliminated the side slits
The fabric pulled and stretched slightly when I top stitched the neck band, which is unfortunate but I think it's one of those sewing things. "Don't tell anyone and they won't notice." On this version you can really see the shaping below the waist.
So long as the weather continues to hover around freezing, I could make up a dozen of these but for the next one I'd like to make the Breton version. Eyes are now peeled for striped fabric! Just not navy – I already have 3 navy striped tops in my closet 😉