An outfit for Sew Over 50 Frocktails
I'm a super active participant in the @SewOver50 community on Instagram and also volunteer as the Relief Editor for the group. There are currently about 43,000 followers of the Sew Over 50 account and it's a wonderful, welcoming community comprised of those who are over age 50 and sew. We don't discriminate – those under 50 are welcome to follow along!
In September 2022, the two ladies who ARE Sew Over 50 organised a Frocktails event in Edinburgh, Scotland. Like a lot of people, I had trips planned prior to March 2020 and wound up with a bunch of airline credits waiting for an excuse. One of my pandemic lessons was that life can change in an instant. We don't know what could happen next week or two years from now so grab opportunities when they come your way! So I took those airline credits and bought myself a ticket from Calgary to Edinburgh. Then I started thinking about what kind of frock I would wear to Frocktails!
I set a few requirements for my garment before I settled on a pattern and fabric: a) comfortable, b) pack/travel well, c) versatile and d) suitable for late-September weather.
Dress: Pamela's Patterns Softly Pleated Dress
I'm a fan of Pamela Leggett's patterns because they are well drafted classics that are designed to fit the more mature figure. For this event I wanted a comfortable dress that could be later worn to work, for dinner or out for events. This pattern fit the bill.
The fabric I purchased is stretch cotton (95% cotton, 5% spandex – about 200 gsm) designed by EttaVee for Riley Blake Designs. In the fabric description it lists that it is suitable for t-shirts, leggings and sleepwear. Does that make for a comfy dress? You betcha! I selected this fabric for the colours and also the design that was decidedly NOT florals. (I tend to gravitate toward florals and have way too many in my wardrobe.)
I selected this pattern because it was designed for knits, it has some shape (it's not a loose fitting dress) and it is suitable for everything from a day at work to dinner out. Pamela also provides excellent directions on how to adjust her patterns, so I knew that I could finesse the fit.
Before I started cutting I made two adjustments to the pattern. First, I changed the neckline from a square or scoop neck to a v-neck because that's more flattering for my bust. The second change was to line the bodice. This allowed for a beautifully turned v-neck and also helps the bodice to lie nicely. The photo on the left is of the lining in the bodice.
I selected a size based on my upper bust and went from there. Once the dress was basted together, it was clearly too large so I followed Pamela's detailed instructions to move the waistband higher, shift the front and back pleats to the most flattering point, and taper the skirt. In the end, I wound up with a dress that fits so well. And it was made to be packed in a suitcase!
Topper: Style Arc Coral Cardigan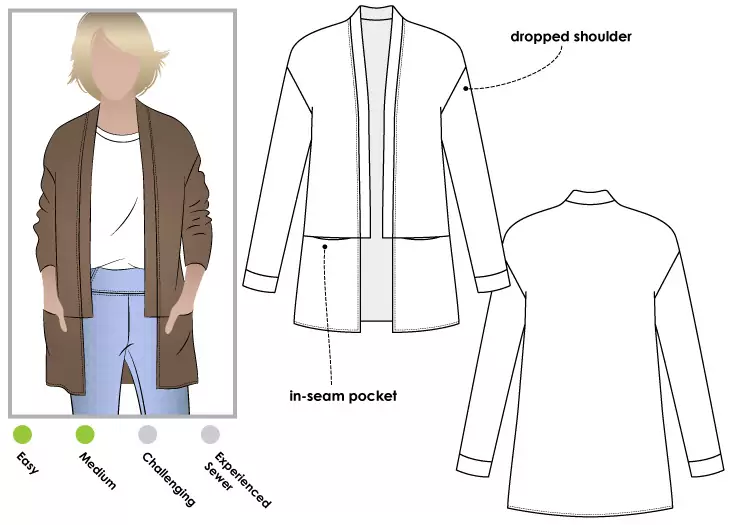 When I was shopping at Rick Rack for the dress fabric I spied a wool blend that matched perfectly and it seemed like the right weight for an autumn cardigan. I hadn't planned to make a cardigan but the match was just too good and I expected that I would need a cardigan or jacket in late September. This fabric is called "Lana Bolito" and content is 65% viscose and 35% wool. The weight is 340 g/m2
I have several cardigan patterns but was ready for a change, and I also knew that this fabric would work best with a pattern that has some structure.
The Style Arc Coral Cardigan is a relatively basic cardie but what makes it different is the front band that ends at about the waist, giving a bit of definition and also showing the structure of the jacket. There is also a seam at the front with inseam pockets, providing a chance for the fabric to shine.
I've only sewed Style Arc one other time and know that their instructions are often rather minimal but in this case, it didn't matter because this is a very simple garment that went together in record time. My skills are also much better than they were last time I sewed Style Arc.
This fabric doesn't ravel so the seams don't need to be finished and in fact, I could have gotten away without hemming the jacket or sleeves but I'm not that much of a bohemian.
In the end, I made one small change to the pattern. As you see in the photo on the left, there is a cuff for the sleeve. This fabric was quite bulky and I didn't like the idea of a cuff so instead, I made a 1.5 inch (3 cm) facing for the sleeve and that gave a nice, crisp line.
I love this cardigan. I think it's one of my favourite makes this year. When I finished it and took it to my closet, I realised that it coordinates perfectly with several tops in my wardrobe. That means it will be worn and not just hang in the closet! I suspect that I should have washed it several times to pre-shrink and am a bit concerned about how it will react to water so this will be a 'dry clean only' cardigan.
The cardigan and dress made it to Edinburgh for Frocktails and they had a wonderful time! As it turned out, Scotland (like Alberta) had a warm autumn so the cardigan wasn't needed for the event but it wandered up and down the cobblestone streets of Leith.
If you would like to hear more about the Frocktails event, please visit take a look at my YouTube video – Janine Sews Goes to Frocktails. I've included many pictures plus video of the fun.
I'm so very glad that I went to Frocktails! I have memories that will last a lifetime, and will be reminded of my lovely sewing friends every time I wear my dress or cardigan.